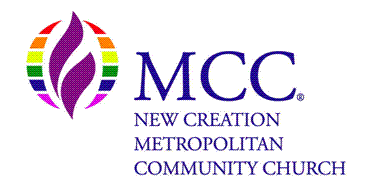 Following the example of Jesus, New Creation MCC is a living model of acceptance and welcome, built on faith instead of fear; hope instead of judgment, love instead of rejection.
MCC Core Values
Inclusion
Love is our greatest moral value and resisting exclusion is a primary focus of our ministry. We want to continue to be conduits of faith where everyone is included in the family of God and where all parts of our being are welcomed at God's table.


Community
Offering a safe and open community for people to worship, learn, and grow in their faith is our deep desire. We are committed to equipping ourselves and each other to do the work that God has called us to do in the world.


Spiritual Transformation
Providing a message of liberation from the oppressive religious environment of our day or to those experiencing God for the first time is what guides our ministry. We believe that when people are invited to experience God through the life and ministry of Christ, lives will be transformed.


Justice
Working to talk less and do more, we are committed to resisting the structures that oppress people and standing with those who suffer under the weight of oppressive systems, being guided always by our commitment to Global Human Rights.
Full to the Brim, Easter Reflections
Fifth Sunday of Easter
https://www.youtube.com/watch?v=bcmv3467Y0I

By the time we get to Acts 11, Jerusalem "Headquarters" is getting field reports, and they sound a little strange.
•    Philip gets caught up in the Spirit and welcomes Samaritans in the new church.
•    Philip still in the Spirit welcomes an Ethiopian eunuch into our new church.
•    Ananias welcomes the murderer Saul into his home, our enemy,
•    Then we hear, Peter goes to a gentile home and welcomes in Gentiles.
Philip and Ananias ok; but Peter?  That can't be true. Peter is one of us. Well, this may all be fine and good in Samaria, Gaza, Damascus, and Caesarea, but this is Jerusalem.
    Samaritans, Eunuchs, and Gentiles, oh my.
    Samaritans, Eunuchs, and Gentiles, oh my.
Peter, what is going on?

Peter begins: Let me meet you where you are and take you step by step.
    Prayer, led to trance, led to vision, Peter tells the story ending with a voice from heaven "What God has made clean, you must not call unclean/profane."
    Prayer, trance, vision, voice.
    So I go. Then the Spirit blesses them fully as we were blessed. Just like us. Right away, I didn't even get to finish my sermon. I had to get out of the way and not hinder God's work.
    Prayer, trance, vision, voice, spirit…everything I was taught dropped away. Unclean no more.
    Habits, beliefs, rules, how it has always been, undone..
    Prayer, trance, vision, voice, experience of spirit.

Queer singers Jo Lampert and Ryan Amador perform, Define Me. The song moves from the ways they have been called unclean to asking the world to "define us as we are as God's children." Essentially singing, What God has made clean, you much not call profane.

We're starting this party tonight
Where people will be undefined

We're starting this party right here
Where people will shake off fears

With prayers, trances, vision, voice, interruption of the Spirit, God will make a way from what we thought we knew to the kin-dom here and now.

Define Me https://www.youtube.com/watch?v=HyNSGff-Nh4

Eternal God, Mother and Father of us all, interrupting spirit, take us by the hand just where we are and lead us step by step ever deeper into your love, trusting that we are defined fully as your children.  Rain down Holy Spirit, shower us with your love. Amen.


Rev. Elder Troy Treash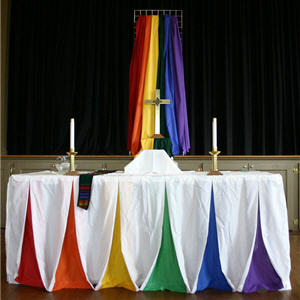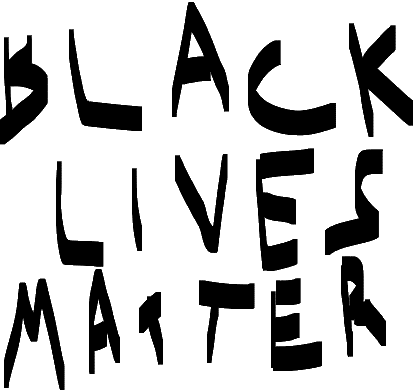 We will continue to Live-stream worship on our Facebook page. In the spirit of concern for 'the least of these' and knowing that many in our community are immune compromised, if you wish to join us in person
you must wear a mask

(which we can provide). We will revisit this policy when the CDC changes the status in Franklin county from the current 'yellow' caution level.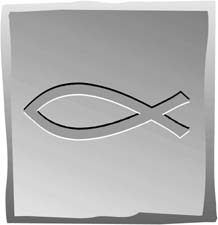 We will be posting our service recordings for viewing on-demand any time. See the link in our Main Menu>>
You are encouraged to contact us (see menu on this page or call the church) to assure that we can reach you with service changes as we navigate these unknown waters.
 And for anyone who is in Christ, there is a new creation. the old order has passed away; now everything is new!  All of this is from God, who ransomed us through Christ—and made us ministers of that reconciliation.  This means that through Christ, the world was fully reconciled again to God, who didn't hold our transgressions against us,  but instead entrusted us with this message of reconciliation. -2 Corinthians 5: 17-19